Steno Signals – Japan Watch: Ueda is Under Increasing Pressure to Act
"Japan Watch: Ueda is Under Increasing Pressure to Act"
The first meeting with Ueda at the helm takes place this week. The BoJ is under increasing pressure to act and the Finance Ministry (and Buffet) seems to be preparing for higher interest rates.
Welcome to another edition of our Japan watch. You can read our first edition on the "flight back home" here.

This is your bi-weekly reminder that either you do Japan or else Japan will do you! Things are brewing beneath the surface in the world's biggest lender and you better take notice of it.

Table of contents: 
* Japanese inflation is getting increasingly embedded 
* Expectations ahead of the Ueda-led BoJ policy statement are low
* Assessment of Japan as an investment case – Follow Mr Buffet?
* The beta to European and US equity and bond markets
JAPANESE INFLATION IS GETTING INCREASINGLY EMBEDDED IN THE ECONOMY
The Bank of Japan started posting super-core measures of inflation during the Pandemic and this morning the March release was out (T+2 of the release of the Nationwide CPI). All underlying measures of inflation either re-accelerated or made new multi-decade highs in March.

The trimmed mean of the CPI basket increased to 2.9% YoY in March from 2.7% in February, the "Mode" inflation (the inflation rate with the highest density in the distribution) is increasing rapidly, while the uniformity of the directional move in the consumer basket is now striking – >80% of basket components increase YoY. We need to go back at least 4 decades to find a similar inflation picture in Japan.

Find out more, by reading the FULL article here → https://stenoresearch.com/watch-series/japan-watch-2-ueda-is-under-increasing-pressure-to-act/

We provide a FREE 2-week trial and a 20% off your first subscription with the code "crisis20"

Chart 1: Every single underlying inflation measure is now screaming for BoJ response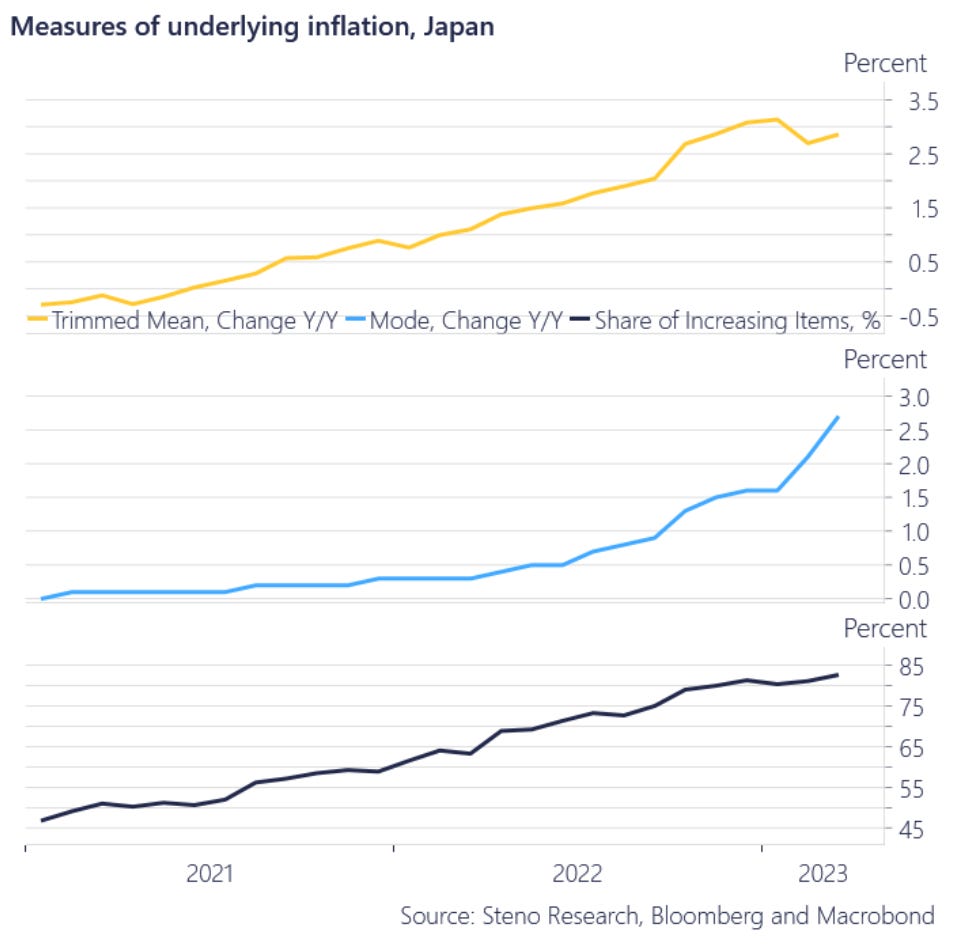 DISCLAIMER
The content provided in Stenos Signals newsletter is for general information purposes only. No information, materials, services, and other content provided in this post constitute solicitation, recommendation, endorsement or any financial, investment, or other advice. Seek independent professional consultation in the form of legal, financial, and fiscal advice before making any investment decision. Always perform your own due diligence.
20230425