Steno Signals #56 – The Business Cycle that Everyone Misunderstood! Here's Why
The Business Cycle that Everyone Misunderstood! Here's Why
Positioning reveals that the pain trade is higher rates, while the recession is slowly but surely being called off. Here are 4 reasons why everyone misunderstood the recession risk and why it is alive
Happy Sunday and welcome to our weekly flagship editorial! We are entering the summer lull, but we will remain fully up and running at Steno Research with uninterrupted coverage throughout the next 4-5 weeks.
The pain trade is higher rates AND equities now
It's been a tough week for those hoping for an actual summer lull in markets as the pain trade has shifted from being equities moving higher to rates moving higher.
The ISM Service made for almost Goldilocks-like reading with a continued deceleration in price pressures paired with a rebound in activity. If these trends are actually sustained, equities have much further room to the upside despite the wrongfooting of Fixed Income markets short-term.
Equity positioning is still short/underweight relative to benchmarks despite a surge in positioning lately.
Chart 1: Prices paid continue to drop in the ISM Services despite a rebound in activity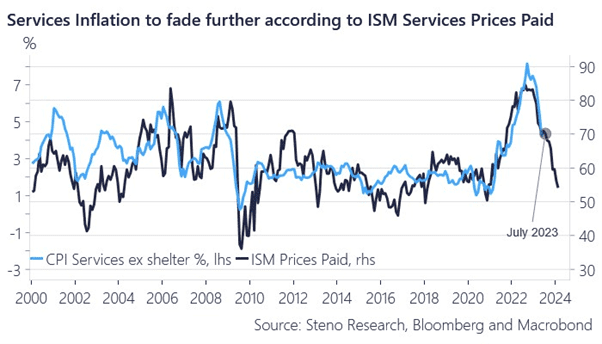 The bond market positioning is on the other hand heavily long and especially market participants with a slightly longer risk horizon have loaded up lately. Real money players are as long as they have been since 2011 in the JPM survey.
Active players / hedge funds are also slightly net long, which is an issue if the short-term activity picture rebounds before the price pressures fade sufficiently.
The pain trade is currently higher in rates, especially in the short end.
Chart 2: Positioning is as long as it has been since 2011 among real money players
We don't find a high probability of a sustained Goldilocks environment even if the ISM Services details could hint of such. The monthly NFP report surprised to the downside for the first time over the past twelve months and it coincides with improving real wage trends for consumers. Confused?
We understand you, so let's get to the four reasons why everyone misunderstood the recession risks so far. Private monthly job growth is now uncomfortably close to break-even levels (of 130k).
Chart 3: Finally, a downside surprise in the non-farm-payrolls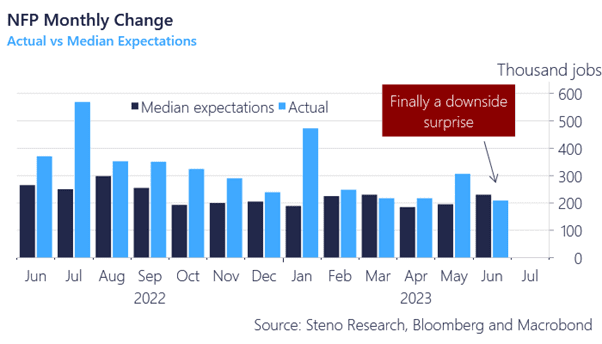 DISCLAIMER
The content provided in Stenos Signals newsletter is for general information purposes only. No information, materials, services, and other content provided in this post constitute solicitation, recommendation, endorsement or any financial, investment, or other advice. Seek independent professional consultation in the form of legal, financial, and fiscal advice before making any investment decision. Always perform your own due diligence.
20230709