CHFJPY MONTHLY
https://macrobeat.co.uk/my-thoughts/f/chfjpy-monthly
CHFJPY Monthly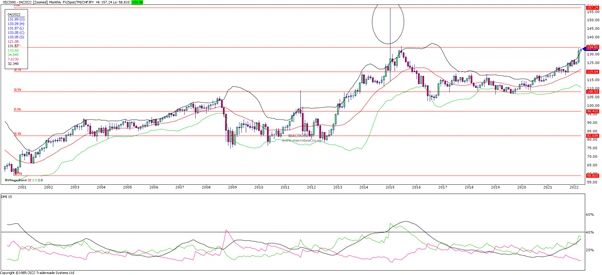 Time to review my JPY and CHF trades that I put on early 2022…. With the main focus into 2022 to be long USDJPY and USDCHF…. As in selective USD bull vs CCY's that will most likely or almost guaranteed see NO rate hike in 2022… and possibly not even in 2023…. Which of course, we might all agree…. The BOJ and the SNB qualify…..
2022 did start well for both those USD trades with US yields just one way up…. But then came the War…. Then came the hick up that both pairs did endure for all the fight reasons…. The CHF for safe haven and the JPY for carry unwinds…..
We have seen a strong sell off in EURJPY and in EURCHF for that matter….. what happened after that… or in the last few weeks is on a different scale now…. and it also did force me to regroup on this CHFJPY trade from early February… re group …. Sit on the side line BUT now feel it is time to roll out the story again… as the story is still a good one… it just had to endure some very strange market events…. That we seem to get quite often right now….
EURJPY has sold off from 134.00 area… to 124.00 on the back of the war in the Ukraine (before rallying back to 137.00 on the current JPY selling frenzy)….. while EURCHF had a nice bounce from 1.0300 to 1.0600 early in 2022 when all was still going to plan… BUT has since grinded back down.. printed a fresh low at 0.9975 early March before recovering back to the 1.0300 area…..
In the last few days.. we have seen fresh pressure on EURCHF that have more to do with the nervousness around the French Elections where the polls have tightened up between Macron and le Pen BUT it is still very hard to see that Macron could lose a run off on April 24 (first round April 10)… BUT hey… stranger things have happened…. BUT that is where this trade is coming in now… the CHFJPY…..
CHFJPY has rallied around 7% in March.. that combo of JPY selling frenzy and CHF remaining bid for whatever usual reasons…. Since early 2019… we have moved up around 20% in this cross… historically.. (if that counts for anything)… these are just ridiculous levels for a cross that is between 2 low yielders… where both currencies should be sold while global yields go up….. the circle you see.. that is the famous 2015 when the SNB dropped the peg… so hard to argue what the exact high was… etc… but we just take it for now and see that we approach 134.00… which is definitely not a bad level to start selling the cross….. so what is the idea behind it…as what it is…. it is a smarter way to play short CHF once some of the factors (French Election , War in Ukraine) start to lose its influence…… short CHFJPY at this point is most likely the smarter trade than just long EURCHF or long USDCHF (even though I still believe the USDCHF will get back to parity and above)….
FACT is….. EURJPY has done a big part off that JPY selling flow on the back of higher global yields… while the CHF has only rallied…. So 1 of 2 things will happen now……
Either…      
1. EURJPY has moved too much… EUR gets sold on the war in the Ukraine or something      going wrong with the French elections… that would mean… EURJPY has a lot      more room to drop than EURCHF = CHFJPY lower
2. Or……      the situation overall improves….. less safe haven needed in CHF…. And the CHF move is catching up with the      move in the global yield space , which should lead to a substantial      outflow of CHF longs into areas that actually give you some yield.
3. And…      I add 3….. and when you look at my blog post… READ the JPY jawboning piece      that I wrote just 24h ago
Playing the CHFJPY at this point gives you 2 options to possibly win… while a long USDCHF and/or EURCHF just 1
Good luck
The information provided herein is being supplied in good faith based on information which we believe, but do not guarantee, to be accurate or complete. MacroBeat is not liable for any losses which are incurred from acting or not acting as a result of reading any of its publications. You acknowledge that you use the information provided at your own risk. This information is the personal view of MacroBeat and is NOT investment advice nor Research.
20220406