Market Overview – Morning Express
Market Overview – Morning Express
E-mini S&P (December) / NQ (December)
S&P, yesterday's close: Settled at 4003.25, down 72.75 NQ, yesterday's close: Settled at 11,805.75, down 204.50 Fundamentals: U.S. equity benchmarks slipped sharply to start the week. It is no coincidence the odds of at least 100bps worth of Fed hikes through its February meeting have risen to 63.7%, according to the CME's FedWatch Tool. Strong Wage Growth on Friday's Nonfarm Payrolls, followed by a re-acceleration in Services via yesterday's ISM Non-Manufacturing, has underpinned the rise in hike expectations from a coin flip one week ago. The yield of the U.S. 10-year Treasury has also responded, not just fundamentally to the data, but from technical support at 3.5% area, or 114'16-115'00 in the futures. Rising yields will tighten conditions and the risk appetite. Bill Baruch discussed just this on yesterday's CNBC Halftime Report.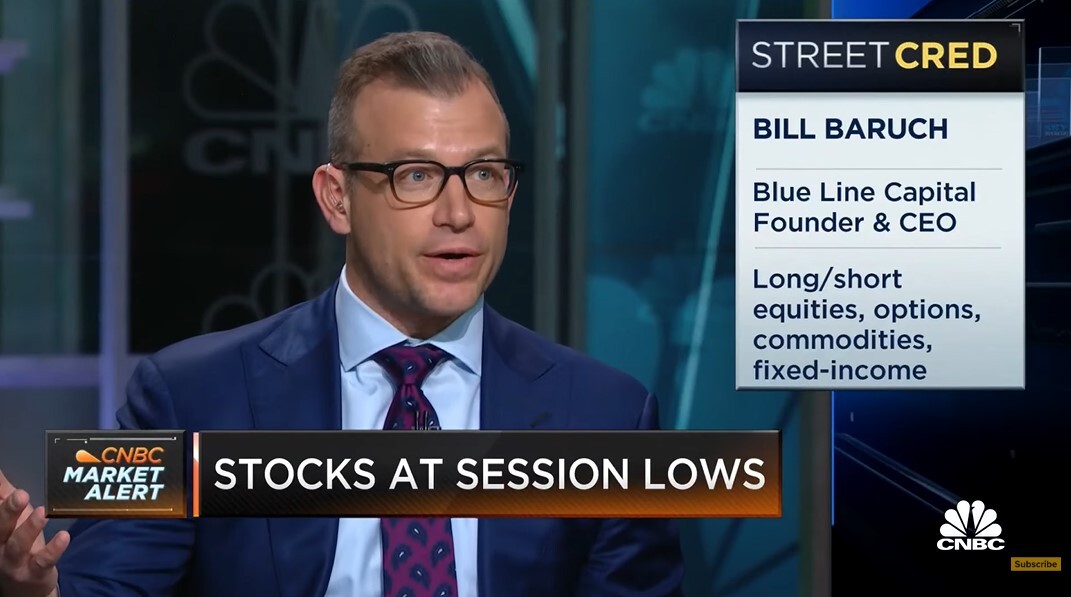 Today's economic calendar is quiet, but things begin to pick up through midweek. U.S. Trade Balance data is due at 7:30 am CT. Although inflation is showing signs of being contained for the moment, the fear is a sharp slowdown in global growth. Services data from China and the Eurozone contracted more than expected to start the week. We then look to Trade Balance data from China tonight. On the earnings front, Toll Brothers will be closely watched tonight. The homebuilder is known to specialize in higher-end homes, but what has been the impact of rising rates? Catch the CNBC Halftime Report's Final Trades segment. Technicals: We revised our Bias to start the week from cautiously Bullish to outright Neutral. Bill Baruch joined the Traders Summit on Friday and said although he is optimistic on the equity market broadly, he is short in the near-term, via our commodity trading fund Blue Creek Capital Management (email us at info@bluecreek.capital to learn more). With prices coming in sharply yesterday, the 21-day moving averages are front and center for each the S&P and NQ. Last week, the NQ held and responded to a crucial test of this indicator. It is our belief a close below here, at 3974 in the S&P and 11,670 in the NQ, will neutralize near-term momentum and could encourage added selling from long liquidation due to the lack of momentum ahead of a critical economic calendar beginning with PPI on Friday. For the S&P, the 21-day moving average aligns with a retracement and trend line from the low, bringing major three-star support at 3966.50-3975. This is our next level below rare major four-star support at 3997-4006.75, which the S&P did not close below yesterday. As for the NQ, its 21-day moving average also aligns with a trend line, this one from November 10th. All things considered, the ante is raised as these levels are tested. What we are describing is a lot of support underneath the market. However, given yesterday's directional day, in order to neutralize the weakness, we must see a close back above major three-star resistance in the S&P and NQ at … Click here to get our (FULL) daily reports emailed to you!

Crude Oil (January)
Yesterday's close: Settled at 76.93, down 3.05
Fundamentals: Global growth fears and strong technical resistance eroded upbeat sentiment in Crude Oil to start the week. Yes, reopening tailwinds from China are a positive, but this will be a slow process through the first quarter. Furthermore, the price caps on Russian Oil may do very little to keep Russian barrels off the market, which was ultimately not the goal. The price cap at $60 will impact China, India, Turkey, and the likes, logistically, but Saudi Arabia cut their price for January Arab Light for Asia to a 10-month low, in what appears to be an attempt to compete with Russian barrels post-cap. Although we remain upbeat over the long-term, we have been and will continue to be extremely cautious in the near-term. Broadly speaking, tremendous damage to the Oil market has taken place during this time of year, and prior experience is a factor in keeping us cautious right now. Furthermore, there are the $80+ bull markets in Oil, and the sub-$50 bear markets in Oil, with very sharp and vicious transitions in between.
Technicals: Price action failed once again at our $83 area of major three-star resistance, and this helped encourage added selling from the higher end of yesterday's range. The selling picked up with strong volume through the $80 mark, and this brings major three-star resistance at 80.01-80.15, a level we must see a close back above in order to neutralize yesterday's damage. To the downside, rare major four-star support comes in at … Click here to get our (FULL) daily reports emailed to you!
Gold (February) / Silver (March)
Gold, yesterday's close: Settled at 1781.3, down 28.3
Silver, yesterday's close: Settled at 22.417, down 0.833
Fundamentals: One of the most seasonally bullish times of year for the precious metals complex is right around the corner, but before then, there are clear fundamental headwinds. As we noted in the S&P/NQ section, the odds of 100bps worth of hikes from the Fed through February have increased to 63.7%, from a coin flip. Additionally, the U.S. Dollar Index is at a critical area of support, and Treasuries a critical area of resistance. However, all is not negative, the Chinese Yuan has strengthened back below the psychological 7.0 mark versus the U.S. Dollar. The week builds into a critical read on inflation with PPI on Friday, and we would not be surprised to see a continued consolidation lower until then.
Technicals: Price action is consolidating lower, and this is healthy. After trading above, both Gold and Silver surrendered big levels of technical resistance at 1806-1809.6 and 23.08-23.25 yesterday. Trading below here encourages such a consolidation, and furthermore, while trading below our Pivot and point of balance at … Click here to get our (FULL) daily reports emailed to you!
https://www.bluelinefutures.com
20221206