Steno Signals – Asset Allocation Watch: How to position for USD weakness?
"Asset Allocation Watch – How to position for USD weakness?"
Dear all,

We have had a lot of feedback on our "Asset Allocation Watch" on the weakening USD and how to position for it across asset classes.
We will provide you with a mini-extract for FREE here, but if you want to learn about the rule in it's entirety, you can use "substack20" to get 20% off on www.stenoresearch.com/subscribe/
The offer ENDS on January 31, so make good use of it already now.

In this article we will let the data do most of the talking – exactly like we prefer – and briefly boil down the most striking conclusions, which we can extrapolate. We find that the USD can weaken further in the coming 2-3 months due to USD liquidity being added on the back of the US Treasury hitting the debt ceiling.

Let's do the conclusions up front:
1) Seek carry / exposure in Eastern Europe, if you think the USD will weaken further – it is your best BETA
2) Prefer metals to oil as the correlation between a weaker USD and higher commodity prices is stronger and more stable in precious -and industrial metals over time
3) Hold less (USD) cash than in 2022
A revisit of our USD probability model
Our conviction and thesis of a weakening dollar on a reasonable time horizon stems from our model built on five variables of fundamental significance; 1) the relative rates outlook in EUR vs. USD, 2) The Chinese impulse and the relative beta in EUR vs. USD, 3) The relative CPI outlook in EUR vs. USD, 4) The positioning in markets, and 5) The relative energy price risk in EUR vs. USD. This model of ours points to the DXY trading <100 come February
Chart 1: Further downside for USD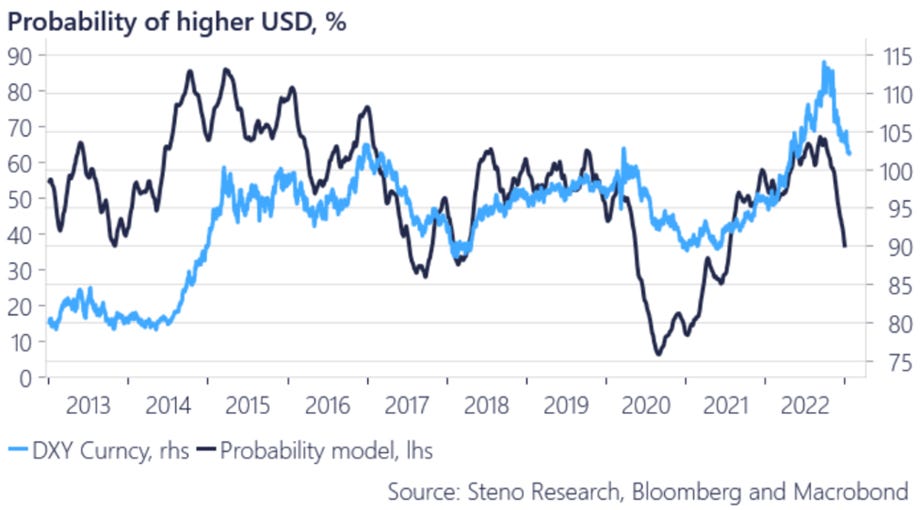 Equities
Time to look elsewhere?
Representing 46.2% of the $111 trillion global equity market, the U.S. is by far the largest equity market. We do not predict that the flows toward the US will discontinue, but given the 'market share' and its correlation to the relative strength in the USD, we believe that now may be an excellent opportunity for seeking alpha elsewhere – maybe in EM as we'll come back to later.
Chart 2: US equity dominance linked to the Dollar
'Outside US'-indices see tailwinds from USD weakness
Assessed by correlation, we get a clear indication that investments into US-listed equities and indices spur as the USD strengthens. Conversely, measured on P/E, multiples are expanded outside the US whenever the USD comes off the gas.

Chart 3: Select indices' P/E against DXY
This was a mini-extract from our "Asset Allocation Watch" from this week. If you want to understand how to position for a weaker USD in details, you can still use "substack20" to get 20% off on www.stenoresearch.com/subscribe/ until January 31

Step by step: How to become a part of the Steno Research team?
1. Choose one of our offered subscription-packages
2. Use our coupon substack20 to get 20% off your first purchase!
3. Become part of the best macro team on the globe
4. Subscribe here → https://stenoresearch.com/subscribe/
DISCLAIMER
The content provided in Stenos Signals newsletter is for general information purposes only. No information, materials, services, and other content provided in this post constitute solicitation, recommendation, endorsement or any financial, investment, or other advice. Seek independent professional consultation in the form of legal, financial, and fiscal advice before making any investment decision. Always perform your own due diligence.
20230124