Steno Signals #40 – The Banking Crisis is Likely to Accelerate in Coming Weeks
"The banking crisis is likely to accelerate in coming weeks"
The banking crisis will continue to rage until the Fed and the ECB accept the underlying reason for the deposit flight. Banks cannot cope with an über-inverted yield curve, why cuts are needed ASAP.
Welcome to our weekly flagship editorial. We will try to be as a concrete and actionable as possible today amidst one of the trickier environments lately. It is all known stuff since this is an environment we have seen before when yield curves have inverted. Our base-case is that the crisis will turn much worse in coming weeks before central banks finally admit to the issue being of monetary nature ultimately.
Banks have a hard time dealing with an extraordinarily inverted yield curve due to 1) the risk of a deposit flight and 2) mark-to-market losses on bond portfolios. We can continue to explain these cases away as stand-alone cases, but the underlying reasons are found in monetary policy, and this is about as strong a hint that you get that the hiking cycle is over.
The below chart is a good example of how loud the bond market screams now. Either the Fed emergency cuts within 1-2 months or else this turns into an outright crisis.
This is of relevance to your portfolio composition across ALL assets and we have flipped quite a few views/positions over the past week as a consequence of what is unfolding! You better care about it now, before the central banks understand the issue.
We will elaborate on the crisis-portfolio in the FULL piece on → https://stenoresearch.com/steno-signals-40-the-banking-crisis-is-likely-to-accelerate-in-coming-weeks/

Remember that we provide you with a free trial for 2 weeks to assess the product.

Chart 1. Nothing to see here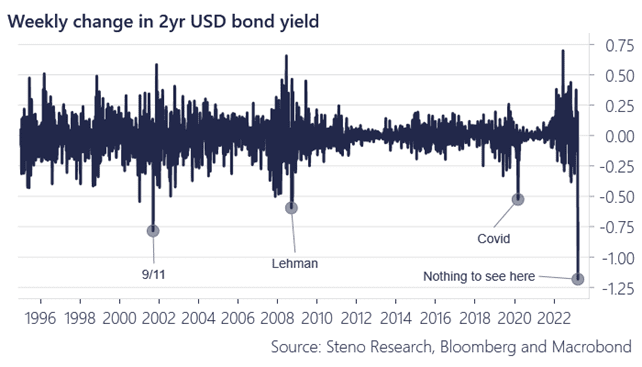 DISCLAIMER
The content provided in Stenos Signals newsletter is for general information purposes only. No information, materials, services, and other content provided in this post constitute solicitation, recommendation, endorsement or any financial, investment, or other advice. Seek independent professional consultation in the form of legal, financial, and fiscal advice before making any investment decision. Always perform your own due diligence.
20230319