US Cannabis: Made in America
US Cannabis: Made in America
It's been three weeks since Russia invaded Ukraine and the resulting turmoil has both ruined lives and roiled markets. While there's much to unpack in the cannabis sector, we'll do so with a keen understanding of the difference between loss and loss, and with our thoughts and prayers with the men, women and children of Ukraine.
We discussed in February how the U.S cannabis cycle had seemingly come full circle; how the structural / liquidity / gating issues, post-COVID normalization, illicit market cannibalization and delays at the state / federal levels led to eleven straight months of losses / venomous sentiment throughout the space; it was the other side of euphoria.
Entering 2022, it was our the view that Q1 would be the trough quarter, a perception buttressed by the fact that stock prices and earnings multiples well below levels last seen prior to the east coast onboard / marked improvement in credit. Insofar as our state-led thesis de-risked and the stocks are lower, we regard that as an opportunity.
[note: we saw sales rebound in February and March, per Headset, and the chairman of Curaleaf noted the same developments last week on an analyst conference call]
We also continue to believe that there will be incremental federal reform prior to the midterms and check-ins with various stakeholders, lobbyists, politicians and analysts suggests that process will heat up into April. With New Jersey adult-use expected to launch late next month as well, the narrative was seemingly set to shift.
The market appeared to get that memo as U.S cannabis shares rallied sharply the first few weeks of February; and that's when the world took a terrible turn. The immediate market reaction was to shed growth and consumer discretionary stocks and U.S canna was not immune. The question is therefore begged: has the war derailed our thesis?
Addressing the risks, there are the obvious concerns: with rising energy / food prices, how will that impact forward sales? And, for that matter, there's the question whether cannabis as an asset class is a consumer staple or consumer discretionary? (I would offer that between medical and adult-use, it's a combination of both).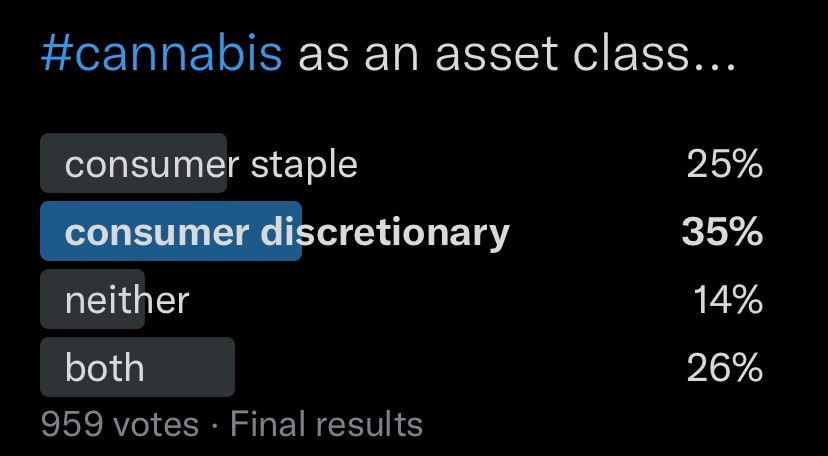 There is also inflation in select input costs, such as fertilizer / lighting / packaging, as well as the specter of a broader market decline / de-risking by funds that are forced to sell cannabis. Concerns that other global / domestic priorities will crowd out federal reform and a plethora of broken charts have helped to round out our agita and angst.
[note 1: the operators we spoke with told us that increases to COGS w/b negligible]
[note 2: recapturing MSOS $19.50 w/b a positive first step for U.S canna ETF $MSOS]
[note 3: the technical damage to the broader tape / rampant inflation / hawkish Federal Reserve were headwinds before the geopolitical upheaval and given the interconnected financial fabric / derivative machination / counter-party risks, the onus will be on the U.S cannabis sector to step up and stand out]
America First
There is one potential tailwind: the (mostly) domestic supply chain that will continue to drive billions in tax-revenues and create additional jobs beyond the 430,000 U.S citizens currently employed full-time in the sector. We haven't seen anyone talking about this yet but we believe home-grown American industries will soon be in vogue.
A week after the invasion, a CNBC reporter asked: "Globalization is reversed, what is investable and what is not investable?" As the world continues to turn, investors and politicians alike could and should increasingly recognize U.S Cannabis for what it is: part of the solution and one of the winners in the new world investing order.
If we are correct in our view that Q1 is the sales trough and DC / NJ will help shape the narrative into April, ahead of CT and perhaps NY later this year, there is indeed much to look forward to. Further, New York's recently announced plan to award the first 100-200 retail licenses to people convicted of cannabis related offenses has an interesting readthrough: how will those people succeed w/o functional banking?
[Spoiler alert courtesy of our friend Camilo Lyon at BTIG: they won't]
As it stands, publicly traded U.S cannabis plant-touching companies have a combined market cap of ~$27 billion vs. expected legal sales of $30 billion this year, per Headset, and anywhere from 16-30% compounded annual growth the next five years depending on who you ask; and that's without the upside call option that is federal legislation.
While we've tried to avoid talking about such things, choosing instead to focus on the continued state-led adoption, cashed-up balance sheets and free cash flow generating businesses, the note below from BTIG's policy wonk Isaac Boltansky echoes much of what we've been hearing as it pertains to the growing momentum in DC:
And this, too…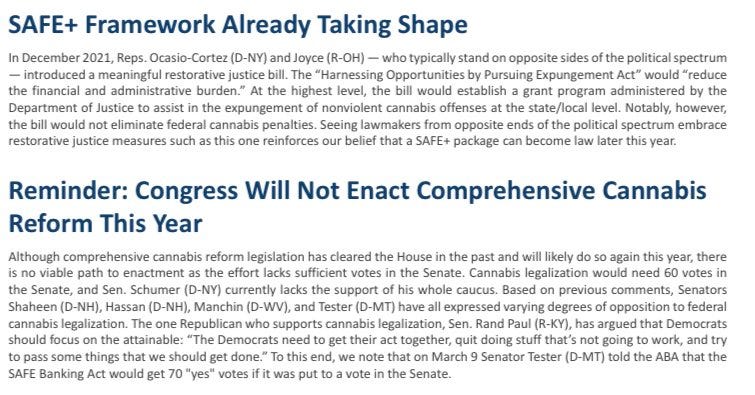 Speaking with the management teams of our portfolio companies, the common theme is that their stock is not their business, and their business is not their stock; and with less than 5% of industry ownership in institutional hands, they're looking forward to the federal reform that'll allow these companies to attain the cap tables they deserve.
While we expect near-term volatility to continue, this complex remains mispriced and misunderstood, and the set-up feels somewhat similar to January 2020 when the sector was down-and-out before the pandemic arrived on our shores.
I don't know how or when this global devolution will play out; these were trying times before WWIII knocked on our door; before the inflation spiked; before concerns about a looming recession shifted toward the specter of something entirely worse.
I would however note that some people would view the Great Depression through a framework of optimism. 75% of society still worked, great discoveries were made and formidable franchises were formed, including Disney, Hewlett-Packard, Tyson Foods, Texas Instruments and Continental Airlines.
Indeed, even if the worst case scenario unfolds—and I'm not saying it will— we would be wise to remember that the greatest opportunities are born from the most profound obstacles and the leaders coming out of a crisis are rarely the same as those who enter.
May peace be with you.
position / advisor U.S cannabis ETF $MSOS
20220312