U.S. Cannabis: The Mirror Image
U.S. Cannabis: The Mirror Image
So, how've you been?
It's been a bit since I shared a stack, somewhat by design. For starters, after spending the two-year pandemic-induced hibernation on a giant hamster wheel of investing in / chronicling cannabis markets in real-time, I was exhausted. Two years is a long time and by last year-end, I simply wasn't the best version of myself and needed a break.
But there was more—after Representative Ed Perlmutter's (D-CO) efforts to include SAFE Banking in the NDAA came up short, the mood among cannabis stakeholders turned decidedly vicious. Some accused us of spreading misinformation (what I wrote has been confirmed) while others emailed my wife to threaten our children.
So yes, it was time to step back and reassess the worth-it meter of spending the time, effort and energy to share free content. It's one thing to have a view and own your decisions and another to publicly share that view with an audience that's betting real money on the outcome. (←and genuinely caring about them).
Then I remembered something my wife sometimes says to me: "it's not about you."
And she's right, again, because the venom isn't about my optimism for this industry as much as it's about the eleven straight monthly declines that erased 50-80% of values.
It's about the elected leaders who failed us at the federal level and bureaucratic delays at the state level.
It's about opportunity cost and the absolute loss; real money.
In a few days, we'll arrive at the one year anniversary of the U.S cannabis top that was also the apex of the U.S cannabis mood. We were so empowered by the price action that seemingly confirmed the walls were finally falling that we formed a gang(a well-intentioned one with an eye toward education / giving back but a gang nonetheless).
Things were giddy back then. Green Thumb, for instance, was enjoying a year-over-year 10-bagger; Trulieve 8X; TerrAscend 12X (!!) and that was before institutions had stamped a single buy-ticket. Those stocks, while extended, were breaking out on the charts, the 'news' was great and the outlook was the definition of positive.
In hindsight, we can point to a plethora of reasons why U.S cannabis struggled last year: the structural / liquidity / gating issues, fundamental normalization (post-covid / pre-tristate), continued illicit market cannibalization and the delays at the state level.
The market, as a forward-looking discounting mechanism, sniffed it first.
Are things as bad now as they were great then? I don't know. I had a high degree of confidence the November low would hold and that was an epic fail, However, there are several dynamics that suggest this too shall pass and our emerging asset class / growth complex could finally fulfil it's vast potential.
There's sentiment and the set-up, which is the polar opposite of a year ago.
The fundamentals are back at "growth @ value" multiples in the context of an uneven landscape that will continue to favor the tier-one operators.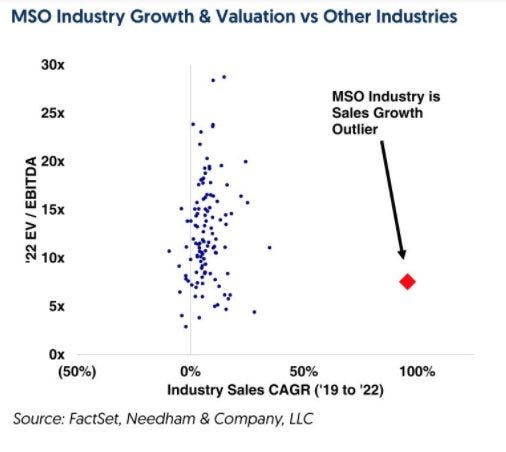 Credit has trended better and credit always leads equity…
And of course, there's Big Ed…
…who seems hell-bent on finally forcing the Senate to vote on SAFE Banking…
I know, I know, we're not allowed to talk about anything DC-related bc it's a false flag that gets everyone's hopes up and leads us down a path of ruin. That's the advice I've gotten: why share the happenings on the Hill when it's such a crapshoot? And if you believe Pablo @ Cantor, the entire sector may be "dead money" in 2022.
Look, I see what you see: thin / illiquid markets being pushed around; the inability to rally with the tape; the relative soft patch in earnings; risk off in the broader markets; towel-tossing by retail… it's been a brutal stretch and tbh it would be hard to blame investors if they left this sector and never looked back.
Still / take this fwiw, I'm of the view this year could be the mirror image of last, when we had six stellar weeks before the steady grind lower. That maybe too symmetrical but if there's one thing we've learned over the years is that cannabis stocks overshoot both ways; just as they /we got too high last Feb, we're now extended the other way.
Random Thoughts
This is one of the wildest charts I've seen in a long time: Biotech ($XBI) ARK Innovation ($ARKK) and U.S Cannabis ($MSOS) since launch.
First year recreational cannabis sales surpassed $1.2B in Arizona while New Jersey, which passed adult-use at the same time, made…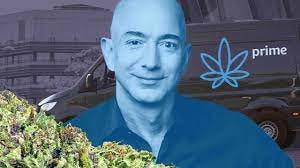 I said that I wouldn't spend too much time talking about SAFE Banking—and I'm def not allowed to talk about the other efforts in play or where they're in play—but I'm still allowed to share this take from Jefferies analyst Owen Bennett.
If you haven't signed this petition asking President Biden to honor his promise to release non-violent cannabis offenders from federal prison, pls do so here.
And finally, a word from our sponsor:
position / advisor $MSOS
/positions in stocks mentioned
20220131