The U.S. Cannabis Trojan Horse
The U.S. Cannabis Trojan Horse – MSOS is a U.S. Cannabis ETF Listed on the NYSE
After most people wrote 2021 off as a terrible year for U.S Cannabis…
…the sector suddenly sprang back to life last week, awakening the animal spirits into year-end and in our view, trapping dark pools of naked shorts in the process.
[U.S Cannabis in the Crosshairs and Recipe for an Upside Surprise explain why we believe the trap snapped on the shorts / the cyclical low for the sector has been set]

[this podcast w Jesse Felder and last Tuesday's twitter spaces w Brady Cobb & Jeff Schultz also talks through the set-up]
[TLDR: nobody had the GOP making a play for U.S canna on their 2021 BINGO card; odds of SAFE Banking via NDAA ticked higher; bulls harvesting tax losses, bears pressed downside; this is the second coming of the U.S canna perfect storm]
And lots happened since then, including several of the U.S Canna FAANG names posting third quarter results. Despite the post-COVID normalization and a bumpy east coast roll-out, they put up solid numbers as our base-case state-led bull thesis continues to charge forward (+ we're hearing up to six states will flip next year).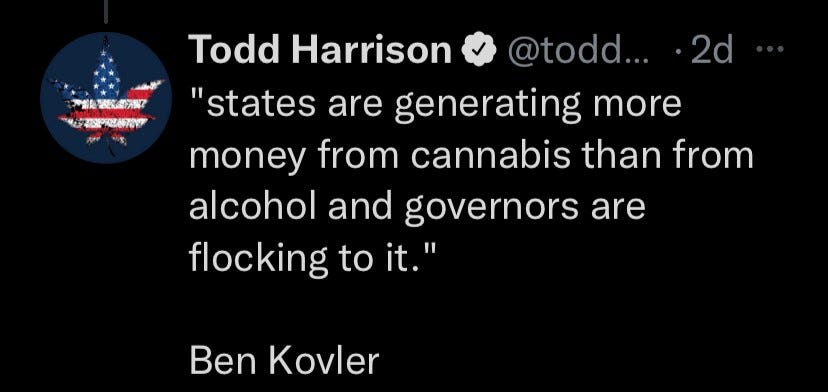 But there's more. First, 24 governors, including the governor from Senator Schumer's home state of New York, called for the passage of SAFE Banking in the NDAA that is currently sitting in the senate and must-pass before year-end.
Then there was a subtle shift in the wind that belied a seismic shift in the landscape, one that we believe has turned conventional wisdom on it's head. Stuff like this…
…and this…
…and of course, THIS, which was officially announced after the close last Wednesday and will be the topic of a press conference at 2PM ET on Monday (the draft of the bill we reviewed is common sense and we expect there to be broad bipartisan support).
That's not to say this is a silver bullet—it's not; but that's not the point. The market knew Schumer's bill was DOA and that more likely than not, the Dems are gonna get smoked in the midterms. But it also made the basic assumption that the GOP is anti-cannabis and in case you weren't paying attention, that all changed last week.
Meanwhile, I continued to field questions throughout the trading week…
…and absorb inbounds from fund managers across the space….
…until it began to crystallize.
Holy forking short balls! The Dukes had nothing on what the GOP is doing and more importantly, when they're trying to do it. Not only did they catch the market off-sides, they timed it to coincide w when the senate is slated to take up SAFE in the NDAA.
And then it hit me.
Now, there's nothing that says these observations will prove true…
…because there are no guarantees in life, the markets and most certainly politics. But there's something happening here: a confluence of dynamics and timing; a set-up that is unlike any that I've ever seen in 31 years of staring at screens.
Other people seem to be paying attention now, too…
…and you know how those laser-eye things work, right? Those sorta things go viral…
…which should help raise awareness of this generational opportunity. We've already seen four of the five highest volume days ever last week (other was at the Feb top)…
…and a little perspective should continue to go a long way…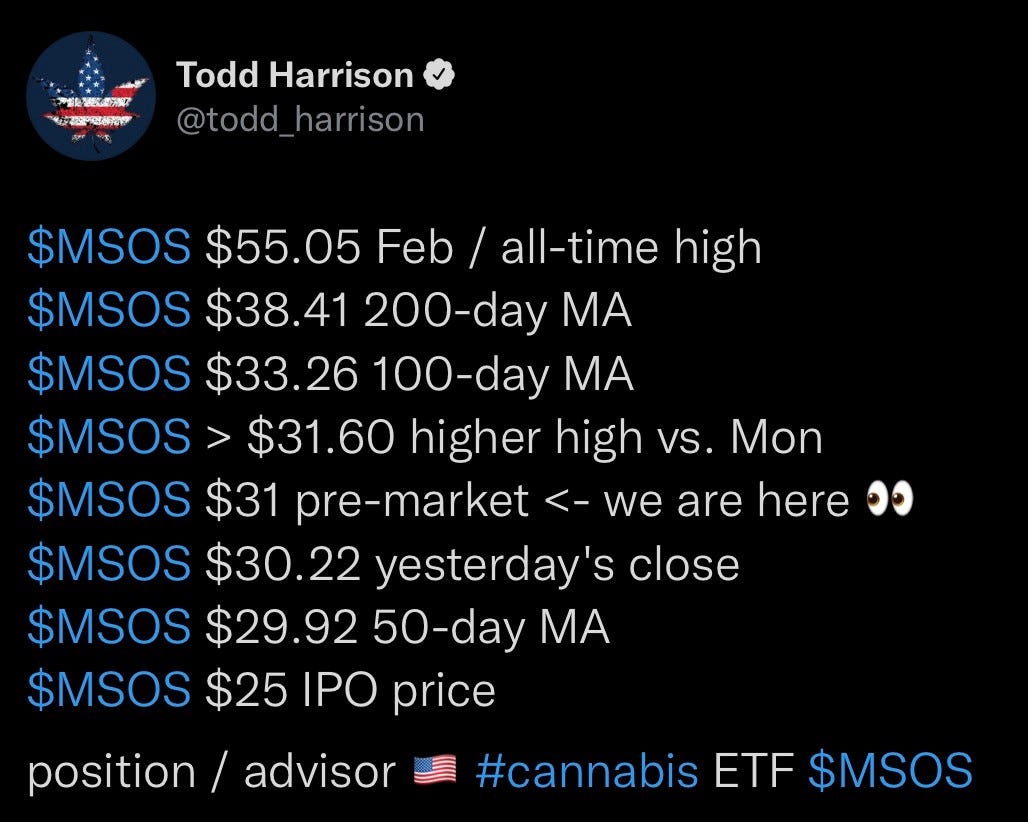 Meanwhile, based on a surge of fund flows late last week, it looks like $MSOS will enter Monday with ~$150M of fresh powder as it looks to add to its 1.24B AUM. 
Good luck out there, invest responsibly and may peace be with you.
position in stocks mentioned
position / advisor $MSOS
If you're interested in learning more about $MSOS, click here.
20211114