Steno Signals – 5 Things You Need To Watch in Global Macro: The Inflation Crisis Is Spreading Through Asia
"5 Things You Need To Watch in Global Macro: The Inflation Crisis Is Spreading Through Asia"
Each week we walk our clients through the top 5 themes on our watch-list and this week we show how Asian inflation LAGS Western inflation.

Theme 1: "Asian Inflation and the ramifications for asset allocation"

The inflation crisis is spreading East and you need to care about it.
APAC inflation is suddenly booming – AUD longs (and AUD swap front-end payers) are not exhausted yet

Australian inflation came out smoking hot earlier today, after upside surprises to Japanese inflation in recent months as well. Is the inflation wave suddenly hitting Asian shores again?
The first inflation wave of this cycle came out of the US in Q1-2021, the second wave reached European shores around Q3-2021 (and has only recently started fading), while the last wave is now hitting Asia after a slow start in Q1-2022.
Chart 1. Inflation in the US leads Europe. Inflation in Europe leads Japan
The US demand was outrageous during the pandemic, which led to spill-overs to European demand right when Europe needed it the least due to a supply side crisis in Natural Gas. The supply side crisis in Europe has ultimately spilled over to Asia due to Europe outbuying Asia on energy. Expect APAC inflation to remain smoking hot in coming quarters consequently, while inflation pressures are fading in the US (and soon in Europe as well). The Chinese reopening is likely also mostly a regional inflationary impulse (for countries selling to China), while it is a global disinflationary impulse (for countries important to China)
Note that Australian inflation (printing at 7.8%) leads Japanese inflation by 3 months. Is 5-5.5% inflation feasible in Japan this quarter? Historic numbers in case.
We continue to lean long AUD/NZD and short USD/JPY consequently.
Chart 2. Australian CPI leads Japanese CPI by 3 months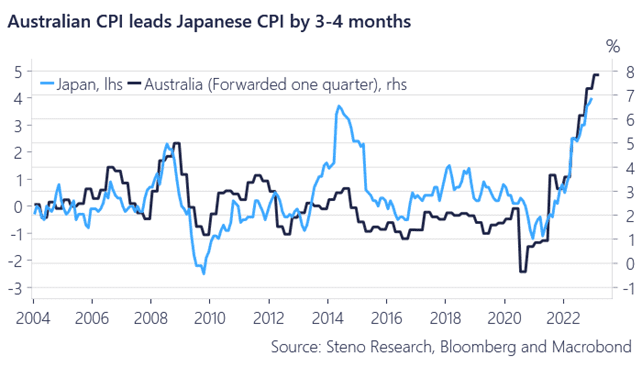 This was a mini-extract from our "5 Things We Watch" series out every Wednesday for both basic- and premium subscribers. You will find more about the four other important topics on our watch-list on our platform.

If you want to understand how to position for an Asian inflation crisis, you can still use "substack20" to get 20% off on www.stenoresearch.com/subscribe/ until January 31

Step by step: How to become a part of the Steno Research team?
1. Choose one of our offered subscription-packages
2. Use our coupon substack20 to get 20% off your first purchase!
3. Become part of the best macro team on the globe
4. Subscribe here → https://stenoresearch.com/subscribe/
If you want to buy a package of licenses and/or live access to the analyst team for your company or institution, please contact info@stenoresearch.com
DISCLAIMER
The content provided in Stenos Signals newsletter is for general information purposes only. No information, materials, services, and other content provided in this post constitute solicitation, recommendation, endorsement or any financial, investment, or other advice. Seek independent professional consultation in the form of legal, financial, and fiscal advice before making any investment decision. Always perform your own due diligence.
20230126