Positioning Watch – Is this a Bear Market Rally or the Beginning of a Bull Run?
"Positioning Watch – Is this a Bear Market Rally or the Beginning of a Bull Run?"
Each Saturday we release our Positioning Watch series to clients of Steno Research.

We are on the watch for signs that this is another bear market rally in this week's edition. Can we see signs of exaggerated risk taking already now? Let's have a look at it.

Equities: Markets are still short, meaning that the short-squeeze can continue

– The short squeeze in equities seen through January can continue as positioning remains very short
– Nasdaq positioning is less short than a week ago, but we remain far from the positive lean in Nasdaq seen when we discussed a soft landing in Q3-2022
– No material change to positioning in S&P 500 and Russell 2000 over the past week

Bottom-line: We continue to like long equity risk as markets remain stuck with wrongfooted positioning
Table 1: Equity positioning across indices (% of open interest)
Chart 1: Nasdaq 100 vs Positioning (% of open interest)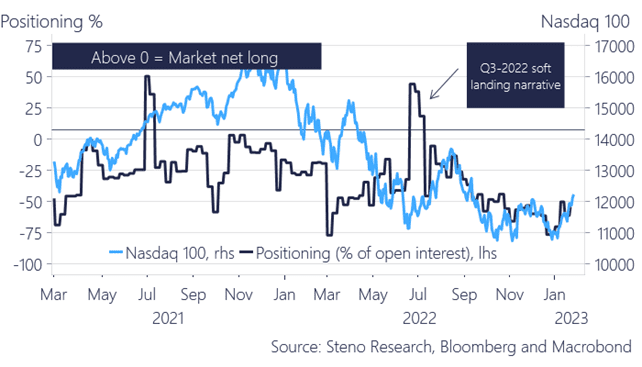 You can learn everything about positioning across other asset classes and how we find risk/reward based on the numbers on www.stenoresearch.com/subscribe/ – remember that we provide 20% off with "substack20" – but only until January 31. The offer ends soon, so be sure to make good use of it.

Step by step: How to become a part of the Steno Research team?
* Choose one of our offered subscription-packages
* Use our coupon substack20 to get 20% off your first purchase!
* Become part of the best macro team on the globe
* Subscribe here → https://stenoresearch.com/subscribe/
If you want to buy a package of licenses and/or live access to the analyst team for your company or institution, please contact info@stenoresearch.com
DISCLAIMER
The content provided in Stenos Signals newsletter is for general information purposes only. No information, materials, services, and other content provided in this post constitute solicitation, recommendation, endorsement or any financial, investment, or other advice. Seek independent professional consultation in the form of legal, financial, and fiscal advice before making any investment decision. Always perform your own due diligence.
20230129