EURCHF Weekly (First 2022 Trade)
https://macrobeat.co.uk/my-thoughts/f/eurchf-weekly-first-2022-trade
EURCHF Weekly (First 2022 Trade)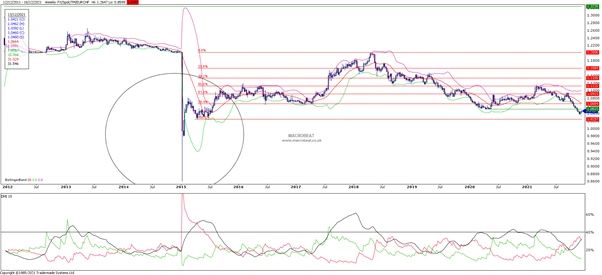 EURCHF together with USDCHF is my first top trade for 2022…. I am core long on both BUT not yet limit long and the ONLY reason that I am NOT yet limit long has more to do with Geopolitics around the Ukraine crisis…. As we know.. should Russia invade the Ukraine, we will have war on the European front door and that will see a big CHF rally…. I do NOT expect Putin to follow through BUT we can also NOT rule it out and as Risk Takers but also Risk Managers, we have to account for that risk…. BUT we also cannot let a good trade go.. so the compromise is to HAVE the risk BUT just less than we wish to have… and then add the rest, if we would get a solution in the Ukraine with diplomacy.
I think it was today's SNB meeting that just made people realise that CHF rates are still at -0.75% and that the SNB has no plan to change this… and that puts the SNB bottom of all the Global Central Banks and I start to put them even below the BOJ…. So the SNB will be the last one out in terms of policy normalisation… which brings us to 2022.
We have already seen rate hikes in New Zealand, Norway , Eastern Europe and Emerging markets… the FED Dot plot told us yesterday, that the FED might hike rates 3 times next year….
With the yield gap starting to widen again between the world's currencies and the CHF…. The CHF has only one way to go…. DOWN….. with global yields on the way up…. We will start to see CHF outflows again that will seek better returning Investments and therefore I think EURCHF is definitely a must heading into 2022 (Geopolitic risk aside).
That brings me to USDCHF…. Due to the move from 1.0950 to 1.0375 in EURCHF, means that USDCHF has underperformed the USD move of 2021 and has stored up a lot of catch up potential, once we would start to see the CHF outflows happening…. USDCHF to me is the best USD long into 2022 of any USD… probably even better than USDJPY….(all subject to Geopolitics and I just have to keep stressing that short term risk)
In the chart, I have ignored the 2015 accident as we know that EURCHF should never have traded down there.. so I have used the first real level where we started to have a more normal market again and that is the 1.0230-40 area and so anyone that is going long EURCHF and buying the dip…. You got to price in that 1.0200-50 area as there is NO other stop loss that would make sense.
My target for 2022 is probably just around the 1.1100 area BUT if I would have a 18 months forecast I would probably say 1.1500 not to be ruled out
Good luck
The information provided herein is being supplied in good faith based on information which we believe, but do not guarantee, to be accurate or complete. MacroBeat is not liable for any losses which are incurred from acting or not acting as a result of reading any of its publications. You acknowledge that you use the information provided at your own risk. This information is the personal view of MacroBeat and is NOT investment advice nor Research.
20211216