Cyclical Employment Growth Falls Further In August
Sep 03, 2021
Executive Summary
* Total employment growth cooled to 4.7% in August after the economy added significantly fewer jobs than expected.
* Cyclical employment growth declined and the average hours worked in the manufacturing sector dropped, two signs of ongoing cyclical weakness.
* The yield curve steepened, gold rose, and the US Dollar fell in reaction to the jobs report as the pervasive weakness may cause the Fed to retract recently hawkish commentary.
Cyclical Employment Growth Falls Further In August
The employment situation report published by the Bureau of Labor Statistics "BLS" showed the US economy added 235,000 jobs in August, far below the expected gain of 740,000.
Job creation in July was revised higher to 1.053 million from 943,000.
Total employment growth cooled to 4.7% in August when measured on a smoothed six-month annualized basis. This growth rate is down from 5.2% in July and 5.6% in April.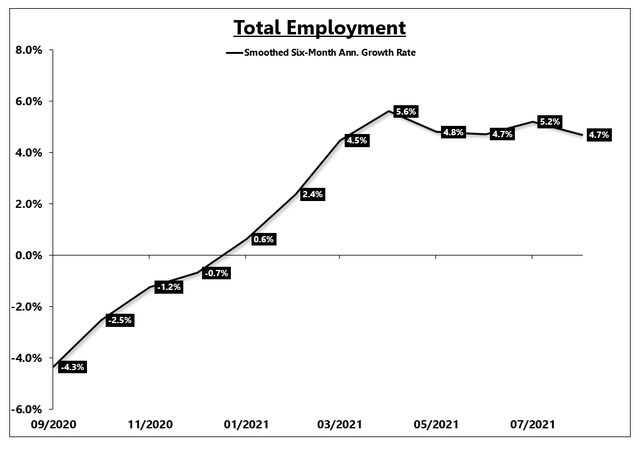 Source: BLS, EPB Macro Research
As the housing market has started to cool, construction employment growth has declined materially, falling from 5.6% in March and April to just 1.1% in August.
Construction Employment: Growth Rate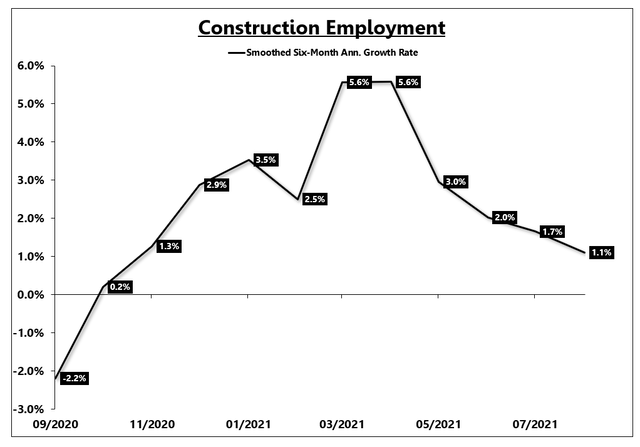 Source: BLS, EPB Macro Research
Employment as an indicator of the economy leans towards a "lagging" metric. The timeliness of employment as an indicator can be slightly improved by focusing on cyclical areas of employment.
Charted below is the growth rate of two baskets of cyclical employment. The left side chart shows private payrolls excluding education and health services, two non-cyclical sectors, and the right side chart shows the growth rate of manufacturing and construction payrolls.
Cyclical employment growth is declining, down materially from the peak in March and April.
"Cyclical" Employment: Growth Rate

Source: BLS, EPB Macro Research
The March/April peak in growth is visible across all four major coincident indicators.
The slowdown in economic activity is broad-based, meaning it has reached all corners of the economy, from production to employment to consumption and income.
Disclaimer: EPB Macro Research is published as an information service. It includes opinions as to buying, selling, and holding various stocks and other securities. However, the publishers of EPB Macro Research are not brokers or acting as investment advisers and do not provide investment advice or recommendations directed to any particular subscriber or in view of the particular circumstances of any particular person. All data is supplied by sources is believed to be reliable, and the calculations herein are made using such data, and that such calculations are not guaranteed by these sources, the information providers, or any other person or entity, and may not be complete.
EPB Macro Research does not guarantee that you will out-perform the stock market. The information provided by EPB Macro Research is obtained from sources believed to be reliable but is not guaranteed as to accuracy or completeness. At various times, the publishers and employees of EPB Macro Research may own, buy or sell the securities discussed for purposes of investment or trading. EPB Macro Research and its publishers, owners, and agents are not liable for any losses or damages, monetary or otherwise, that result from the content of EPB Macro Research. Past results are not necessarily indicative of future performance.
Eric Basmajian
https://www.epbmacroresearch.com/
20210903