CHFJPY Daily (3rd Trade of 2022)
https://macrobeat.co.uk/my-thoughts/f/chfjpy-daily-3rd-trade-of-2022
CHFJPY Daily (3rd Trade of 2022)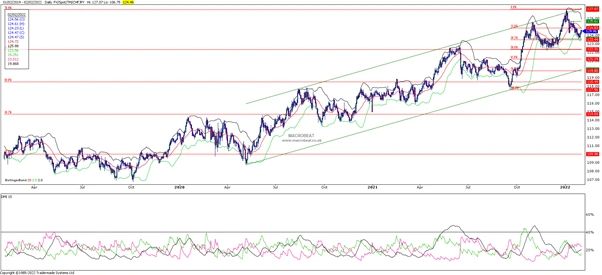 CHFJPY DAILY I did look at this trade at the back end of 2021 and early 2022 probably before Putin felt he puts 100k troops at the Ukraine border…. I was happy with my longs in USDCHF and EURCHF…. BUT I used the rally that we saw early in the year to back paddle on those trades and reduced them to smaller size…. As the geopolitical risk for conflict is of course very high…
I stick to the view that outside of geopolitics.. selling CHF is the best trade of 2022 with global yields going up…. BUT Putin has a word to say so that trade has some delay's and I am looking for some alternatives while that issue is ongoing… this brings me to CHFJPY… last time I was thinking of this trade.. we were around 126.50 and on the same day, it just collapsed… so didn't really take part of it anymore… fast forward…
I am now looking at it again and sold just 1 clip so far in order not to miss it this time again and will sell any rally… the idea behind is, the CHF has underperformed the JPY move in 2020 and 2021… especially at the back end of 2021 we have seen a very strange, unexplained sell off in EURCHF from 1.0950 to 1.0350… and in old carry times… the CHF and the JPY should really correlate well as they did early 2021 when USDCHF and USDJPY just went up like a rocket when 10 year US yields broke 1%…. BUT whatever happened in the CHF in H2 21.. who knows… what I do know is.. with global yields going higher and low CHF rates… the CHF will start to see outflows and looks for better returns… now we can argue that is also true for the JPY which I do NOT disagree BUT the JPY has seen that flow through 2021 and early 2022 while the CHF has moved the other way…..
Now we also have a BOJ that is suddenly talking about the positives but also the Negatives of a weak JPY (something I haven't heard for over 20 years)… and last but not least… should we get conflict in the Ukraine with a fully flagged Russian invasion.. you can bet that the EURJPY will drop double the speed of EURCHF… hence CHFJPY would drop in the case of war….
In my view.. that makes selling CHFJPY a good idea as one would capture both… the CHF outflow in case we do NOT get conflict but the CHF is finally catching up with the JPY outflows…. Or b) conflict and the JPY rallies a lot faster than the CHF…. For me, that makes SHORT CHFJPY my third trade of 2022… and yes… if the Russia situation sorts itself out… I might just stick with just long USDCHF and EURCHF as the more direct version of my view… but the CHFJPY is a great alternative and we have LESS to think about in terms of Conflict or no conflict in the Ukraine….
Core short at current levels 124.40-50 and looking to add 125.50 and 126.50… and of course CHFJPY is really NOT allowed to break those old highs above 127.00 as otherwise this trade is just WRONG.
The information provided herein is being supplied in good faith based on information which we believe, but do not guarantee, to be accurate or complete. MacroBeat is not liable for any losses which are incurred from acting or not acting as a result of reading any of its publications. You acknowledge that you use the information provided at your own risk. This information is the personal view of MacroBeat and is NOT investment advice nor Research.
20220202